It is not easy to pick vinyl flooring vs. laminate when choosing new flooring, let alone there are many other kinds of flooring solution such as marble, ceramic, carpet, and hardwood. Luxury vinyl plank flooring looks remarkably like natural wood as laminate flooring. Both floors promise to be durable, cost-effective, and easy to maintain. You may be lost in these floorings. Luckily this guide here is helping you to discover which is the best for you.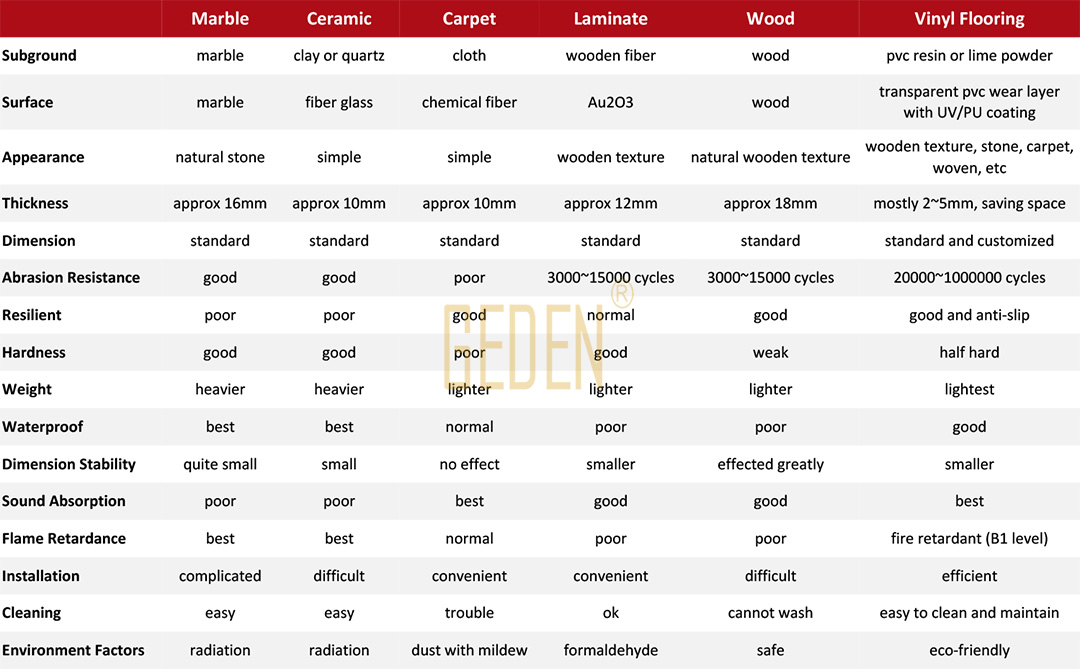 Composition of Vinyl Flooring vs. Laminate
Vinyl flooring planks or sheets are usually made of synthetic materials with multiple layers. The surface is a transparent PVC wear layer treated with UV/PU coating. Under the wear layer, there is a print layer that enriches the colors and designs of vinyl flooring. Then comes to the core layer, it is PVC resin for LVT flooring or lime powder for SPC flooring.
Similar to luxury vinyl planks, laminate flooring also comes with printed design layer but with rigid fiberboard as the core layer. It is a product made from wood byproducts pressed together.
Resistance to Water
Obviously, vinyl flooring is completely waterproof because it is plastic. That means it is resistant to moisture, termite, mold, and chemical. Therefore, there is no problem to install it in bathrooms, kitchens, basement or other areas where laminate wood floor can be leaded to buckling, gapping and warping. Afterall all laminate flooring uses the wooden fiberboard as core layer which will soften and swell when exposed to water.
Appearance (Textures and Patterns)
Usually when consumers purchase vinyl flooring vs. laminate, they are mostly looking for an affordable substitute of natural wood. Because both vinyl and laminate can look like natural wood on the surface. Laminate wood floor may look more realistic than some PVC flooring sheets. However, luxury vinyl tiles can also look remarkably like wood, marble, ceramic, carpet, or any other materials. There are even 3D textures on the surface. You could have countless options of vinyl flooring.
Sizes and Thickness
Vinyl flooring is available in multiple lengths and widths. Vinyl flooring rolls usually come in 2m width and 20m length. Planks are available in plenty of dimensions, including 7.25″x48″, 18″x18″, 24″x24″, 18″x36″, and the customized. More importantly, you can easily cut vinyl into smaller sizes using a knife because it is soft. However, it is not quite easy to cut the laminate though it also can be cut.
Overall the thickness of vinyl sheet floors range from 2mm to 3mm, while luxury vinyl planks range from 2mm to 6mm. Nevertheless, vinyl is much thinner than most laminate flooring and other floors. The laminate plank is approximately 8~12mm thick.
Abrasion Resistance
Because there is a 0.3mm~0.55mm thick wear layer with UV coated on the surface, luxury vinyl planks will not scratch easily. It can hold up well under pressure making it remarkably durable even in the high traffic areas. Though it may dent when there is heavy furniture or something for a long time because it is soft. One the other hand, scratches and chips may occur on the laminate flooring over time.
Environmental Impact
If you are looking for the eco-friendly flooring, then vinyl is the one for you. Although vinyl flooring is not as "green" as natural wood, linoleum, or bamboo, it is 100% formaldehyde free and no harm to human. Luxury vinyl flooring planks like Geden Floors manage to balance the quality and safety without compromising durability. And it is also fire retardant unlike wood flooring. However, laminate may be by no means eco-friendly floor because of its composition.
Comfort and Care
Its resilient surface makes vinyl flooring quieter, that means it has a better ability in absorbing sound. Moreover, fragile goods like glass and dishes do not break when dropped on this resilient floor. SPC vinyl flooring may be cold and hard to the touch, luxury vinyl tiles with a balance layer are warmer and more comfortable to walk on. Laminate and hardwood surely offer slightly better comfort, however, vinyl plank still win over marble and ceramic.